---

The Marshal is Winston McBride played by Jeff Fahey. As a US Marshal his job is to pursue interstate fugitives and investigate federal crimes.

In Protection, Judge Leigh Wilder is presiding over Stanley Quill's case. Stanley is the leader of the White Zeroes, a criminal biker gang that deals in crystal meth. The judge has been receiving death threats and Marshal McBride is assigned to protect her. Callum plays Calvin Quill, Stanley's cousin, and he has been tasked with making sure the Judge rules in Stanley's favor. To accomplish this, Calvin is both threatening and bribing her. Calvin is not the brightest bulb. Or is he? He gets the idea that if Stanley stays in jail, he could become the leader of the White Zeroes. But that's really the b-plot in this ep. The main plot is the Marshal investigating the judge whom he believes is corrupt.


---

The IMDB page: The Marshal: Protection, 1995.

With 99 entries, Jeff Fahey actually has a longer IMDB page than Callum. He was a regular on One Life to Live in the early '80s where he played Gary Corelli. He also appeared in the classic western Silverado. Most recently Jeff Fahey has appeared on Lost where he has played Frank Lapidus in five episodes.


---

Cast / Characters:


Jeff Fahey
Erich Anderson
Michael Massee
Elizabeth Norment
Callum Keith Rennie
Miguel Sandoval

Deputy Marshal Winston MacBride
Philip Neikrong
Stanley Quill
Federal Judge Leigh Wilder
Calvin Quill
Marshal Lester Villa-Lobos

---

Original Air Date: March 4, 1995 (Season 1, Episode 6)

Runtime: 60 minutes (25 episodes)

Country: USA

IMDB rating: Overall 8.2 (24 votes) This episode does not have a rating due to insufficient votes (less than 5).

Genre: Action, Crime, Drama

Keywords: U.S. Marshal


---

Awards:

1995 Emmy Nominations for Outstanding Individual Achievement in Sound Editing for a Series


---

There are 6 user comments.

One example:
Another example of the networks wasting of a great TV show. Actor Jeff Fahey as U.S. Marshal McBride was great and his character was real, always trying to do his stressful job and juggle family and good morals, and the network tries to convert it to a blow up everything and shoot everything type of show which sealed its fate rather quickly. The scenery in the show was always nice and the acting was superb. The plots were always creative until the changed directions. Characters that the viewer can relate to are always better than network heroes the shoot and destroy everything in sight. It was fun while it lasted. We will miss you U.S. Marshall McBride.

You can find all the comments here.

---

Callum Quotient: Approx. 25%


---
Pictures: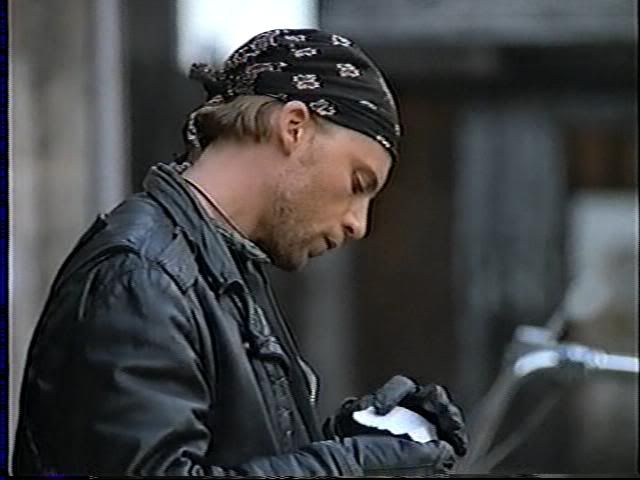 ---
Quotes:
Guard: I'll get your client for you. It would appear your State Bar Identification seems to be up to date, Mr. Niekrong. But I'd do something about the picture.
Calvin: *studies ID* I was having a bad hair day.


Calvin: You'll be dealing with some new people now, Phil. Stanley says.
Phil: Oh Cal! God! You're a puppy! You don't know what the hell you're doing!


---
Trivia:
(This was really tough.)
Ummm, Don Johnson was the Executive Producer?


The Prosecutor looks a lot like Suleka Mathew who appeared in Da Vinci's Inquest as Dr. Sunny Ramen. In the end credits, her name is given as Sue Mathew. So possibly/probably the same actress.


---
Interesting scenes:


Calvin impersonating a lawyer to visit Stanley in jail.


The hallway scene between Marshal McBride and Marshal Lester Villa-Lobos


Calvin meeting with the lawyer Philip Niekrong in the empty warehouse.


Calvin and Stanley's second meeting in jail.


The showdown!


---
Do I want to show this to my parents / friends / co-workers?
---
Calvin Quill
---


Does he die?
You really want to know? Are you sure? Really sure? Well, then. (highlight to read)

::

We learn from Marshal Villa-Lobos that Calvin was "popped" (offscreen) on order of his cousin Stanley.

::


---


Articles/interviews

'MARSHAL' ARTISTRY
AS A ROVING LAWMAN, JEFF FAHEY IS AN ARRESTING PRESENCE WITH CHARMING FALLIBILITY ON A DON JOHNSON-PRODUCED SHOW

Credits
Genre: Police; With: Jeff Fahey

By Ken Tucker

Trapped between those squirmy NBC Sisters and that wooden Walker, Texas Ranger on CBS, The Marshal (ABC, Saturdays, 10-11 p.m.) is having a devil of a time attracting an audience. Would you please start watching it? The Marshal stars Jeff Fahey as U.S. Marshal Winston MacBride, who is, as someone remarked in an early episode, ''a big-time retriever.'' MacBride is the guy they call in when the local police are stumped by a tough case or have failed to track down a particularly dangerous suspect. As a federal officer assigned to capture fugitives from justice, MacBride can throw his weight around just about anywhere in America, and part of the fun is following him as he moves from the Deep South to the rainy Northwest to some big Eastern city to take over a case and make smart-aleck remarks to baffled law-enforcement sad sacks. Fahey is perfectly suited to this task. He has the chiseled good looks and thick wuffly hair of a thousand actors, but he also has disconcertingly big pouty lips and thoroughly unnerving light blue eyes that seem downright spooky when he fixes the camera with a tough-guy stare. Until now, Fahey was known primarily for sporting a strikingly ugly blond mop in The Lawnmower Man and for starring in such straight-to-cable schlock films as 1993's Woman of Desire, the title character played by, of course, Bo Derek. The Marshal, which premiered Jan. 31, allows him to strut his stuff. The best thing that series creators Daniel Pyne and John Mankiewicz have done is to give MacBride that Jim Rockford thing: an air of fallibility. Sure, MacBride looks cool-he wears his badge clipped to his belt over his right hip, and it glints when he swaggers-but he also goofs up regularly. MacBride may momentarily lose a suspect when he trips and falls; he sometimes pursues quirky hunches that-unlike the quirky hunching done by any number of other lumbering TV lawmen (have I mentioned Walker, Texas Ranger?)-don't always prove to be uncannily true. MacBride is an eccentric in the body of a hotshot. One of the series' executive producers is actor Don Johnson, no stranger himself to spoofing macho posturing in his days on Miami Vice. Johnson directed a recent episode that was a standard suspense tale, right down to the old hero-running-across- the-top-of-train-cars routine to catch the criminal. But as usual, The Marshal distinguished itself by the caliber of its cast, which included the veteran character actor and acting teacher Jeff Corey as well as Miami Vice's John Diehl as a ruthless escapee known as the Beast. So far, my favorite Marshal was the one where Kari Wuhrer, an accomplished C-grade horror-movie actress and revered as the token ''girl'' on MTV's awful game show Remote Control, played a stripper who liked to pull a large gun out of her extremely small costume to rob the aroused patrons of whatever joint she was working. When a smitten customer (John Hawkes, wonderfully dazed and confused) helped her complete a robbery, they took off together, and The Marshal turned into a small-screen version of Thieves Like Us, as the unlikely lovers left a trail of crime for MacBride to follow. At once true to action- show rules and properly parodic about the role of good guys in the late 20th century, The Marshal is an underrated pleasure. B+

From here.


---

'Marshal' Puts Fahey Back in Saddle
By Steven Cole Smith
Fort Worth Star-Telegram
(TV Week/February 26, 1995)

Dallas -- After a week on the road plugging his new ABC drama, "The Marshal", recently, star Jeff Fahey looked justifiably tired as he collapsed on a sofa in his suite, sipping honey tinged tea, at the Four Seasons Hotel.

But shed no tears for Fahey: After three weeks on the air, his series, which airs Saturday nights on ABC, appears to be a success. He's more than happy to give it a boost by making the shake-hands-and-smile circuit for the media. Boston one day, Forth Worth/ Dallas the next, Seattle the day after.

This exposure may make a star of Fahey, raised in Buffalo, N.Y., as one of 13 children.

In the past 10 years, beginning with the western Silverado, Fahey has made 41 films. His 40th was another western, Wyatt Earp . In between have been some good, if often overlooked, movies. He has been a busy actor for years, but his face remains only vaguely familiar. "The Marshal" threatens to change that.

"All my buddies over the years, like Kevin Costner and the guys -- I see 'em go here, I see 'em go there -- but I just do my work. And now this," Fahey said. "People say it's going to change your life. I tell them that it's always changing anyway."

This particular change began when executive producer (and actor) Don Johnson realized that no series had specifically targeted the U.S. Marshal's Service, the nations oldest law enforcement agency, dating back more than 200 years. Essential among the duties of the agency is the bring-them-back-alive fugitive unit, to which Fahey's character, Deputy U.S. Marshal Winston MacBride, is assigned.

Fahey has known Johnson for years -- he's one of the contemporary "buddies" Fahey mentioned -- since Fahey guest-starred in a season-ending episode of "Miami Vice."

"I was the one who blew up Don Johnson's Ferrari," Fahey said rather proudly.

The casting of Winston MacBride was crucial, considerably more so than with other dramas. Fahey's character is the show's sole week-in, week-out presence. He has no wacky sidekick, no gruff boss, no glamorous nemesis. Winston MacBride is married with children, but so far, we've only seen them from a distance. Not since "The Fugitive," Fahey said, has a TV drama series been so tightly focused on a single character.

Johnson is directly involved in the production, Fahey said, even though he is seldom seen on the Canadian sets in Vancouver, British Columbia. That fairly anonymous location has served the series well for two reasons, Fahey said: It can pretty much double as Anytown, U.S.A., which is convenient because MacBride is always on the road fugitive-hunting. It's also cheaper to shoot there. "The Marshal" still costs a hefty $1.5 million per episode, but rather than have that money go to high salaries, it goes directly onto the screen, making "The Marshal" look much more like a movie than a TV series. "We don't waste a dime," Fahey said.

Many stars say the transition from movies to TV isn't easy. For Fahey, it was.

"I got used to it quickly, because it's an easier job than what I was doing," he said. "I was making four or five films a year, mostly independent films, around the world. Out of the 41 films I've done, maybe seven of them have been studio films, I had an easy gig.

"So I would go from film to film. And there would be a new crew, new actors, new directors, new producers, new locations, some much worse than others. I'm not complaining about the work; I just saying that having a nice trailer on the set, a nice hotel,and a studio and a network behind your show is a lot easier than wondering why your tent is leaking."

ABC has ordered 13 episodes of "The Marshal", which all have been completed. Fahey will know within a couple of months whether a full season of 22 episodes has been ordered.

Single, Fahey said he will get married and raise a family ... someday.

"And eventually, I'll build a ranch and raise horses."

Found here.


---

JEFF FAHEY
November 29, 1952
Buffalo, New York

Jeff Fahey was born on November 29, 1952, in Olean, NY. The sixth child in a family that was to grow to number thirteen children in all (8 boys, 5 girls), he grew to adolescence surrounded by a large, close, and loving family unit. Strong family values were learned and rooted, and laid the foundation for the man he would grow to become.

At seventeen years old, immediately after graduating from high school, Jeff chose to leave the bosom of his loving family and answer the call of the "open road". This "voyage of discovery" took him from Alaska to Europe, to Israel, where he worked on a kibbutz, to India, the exotic land where he turned 19 years old, to the Himalayas and Afghanistan. His great range and diversity as an actor may have found its roots during this exploratory period, when Jeff lived and learned of the lifestyles and cultures of the vast diversity of people around the globe. Working his way around the world by taking odd jobs at different ports, he worked as an ambulance driver in Germany, on the pipeline in Alaska, and on a fishing boat at some point in-between.

Now a man in his early twenties, Jeff found himself once more in the United States, and home in Buffalo, where his family had moved when he was 10 years old, and where his parents were still currently residing. Again Jeff proved his adaptability and determination to succeed by experimenting with a variety of employment opportunities; a vacuum cleaner salesman, selling encyclopedias, as a trainer in a health club, and teaching ballroom dancing. Invited to attend the ballet for the first time during this period, Jeff Fahey was hooked. With his usual tenacity, he applied for and won a full scholarship to dance with the Joffrey Ballet in New York City, at the unheard age of 25 years old. It was while he was dancing that Jeff learned the importance of utilizing his entire body to tell a story, and not to rely only on a tone of voice or change in facial features to express his thoughts and emotions. This is an emotive skill that would factor into his success as a performer in the days and years of success that were to follow in this performer's wake as an actor expressing the plethora of emotion that represents the human condition as he has lived and understands it.

The Joffrey Ballet led to stage roles, first in the chorus, then in more and increasingly longer speaking roles. The roles spanned Broadway (Brigadoon), the United States on tour (Oklahoma), Paris (West Side Story), and London (Orphans). An accident in London necessitated Jeff leave and return home prematurely. Jeff Fahey remained, as ever, undaunted. A mere few weeks later, Jeff had landed his first major television role, as Gary Corelli in the popular daytime soap opera "One Life To Live". A star was born. This was 1982.

From 1982 to 1985, Jeff lived and enjoyed the life of a daytime soap idol. Full of boundless energy and enthusiasm, he supplemented this achievement by pairing with Martin Zurla to jointly produce off-Broadway plays out of the Raft Theatre. And then came 1985, and with it Jeff's big break. He was offered his first major big-screen role - as Deputy Tyree in "Silverado". If before a star was emerging and evolving; now a star was born and had leapt upon the Hollywood firmament.

From his first break in "Silverado" in 1984, and continuing in an unbroken line to the present day, Jeff Fahey has never experienced a lull in his acting career. Calling himself a "jobber actor", he will do as many as 4 - 5 movies per year, selecting his parts according to the needs he wishes to fulfill inside himself. Once it might be a place in the world he has never seen (Dazzle), another time it might be an actor he would like to work with (Robert Mitchum), or he might want the experience of working with a female director to understand a role from a different point of view (Sandra Locke). Whatever the demand of the role, Jeff will bring his own unique understanding of its demands, as based upon the vast diversity of his own life experiences.

Throughout this period, Jeff continued to remain close to his family. Many of his family members worked with him in his films behind the scenes, and remain a priority in his life to the present day, on both the professional and personal levels.

In 1994, Jeff had the opportunity to star in a weekly television series, The Marshal, produced by his close friend, and acting colleague, Don Johnson. Jeff has said that more than any other vehicle he had acted in to date, his own personality, values, and feelings become encompassed in the character that was to evolve, and emerge, as Winston MacBride. Unique in its concept, the show starred only Jeff - as he liked to say in interviews at the time - "one man, one hour". It was a show which showcased the talent of a very versatile actor well. It combined humour and a unique dry wit, with honor and integrity, and then pivoted it around solid and interesting plot lines. After two seasons, it was gone - a show possibly ahead of its time in concept and presentation.

Jeff did not let this slow him down. He continued to make 4 - 5 movies a year, and became a big celebrity in European markets. Never one to wait for life to catch up to his aspirations and goals, Jeff now added producing to his Curriculum Vitae - bringing the experience of years to his movie rolls and projects. Continuing to seek out roles that would allow him to stretch the bounds of his own individuality, he has always remained faithful to the inner voices that urges him to explore the multiplicity of the human condition in all of its varied manifestations. His movies, therefore, represent an extremely eclectic mixture of type and content, as Jeff has repeatedly accepted the challenge of portraying multiple personas that are living and reacting to a variety of lifestyles and experiences. At any given time he can be seen as a convicted felon (The Execution Of Raymond Graham - 1985), an itinerant rock singer (Psycho III - 1986), an arrogant boxer (Split Decision - 1988), a private detective (Parker Kane - 1990), an adulterer (Every Woman's Dream (1996), a friend and attorney (Close Call - 2002), and an incubus (The Demon Within - 2000).

Who is Jeff Fahey? An actor, a producer, a mentor, a teacher, a visionary, a friend. With each new role, he peels away yet another layer of the façade that an admiring public has grown to expect and love. What he has internalized from his past experiences has become entwined within the complexity of a personality in an ongoing state of flux and growth. Who is Jeff Fahey? Like all men, maybe he's just a little bit of everything!

Photo © The Marshal - Bio by Cathy S. Birn ©2002

Found here.


---
Links
scriggle posted The Marshal: Protection picspam here.

The Jeff Fahey Unofficial Fan Club

The Jeff Fahey Internet Fan Club

---


Availability

The Marshal is not commercially available. So you may ask how I came to possess it. It's all
c_regalis's fault. About a year ago, she emailed me a link to a Yahoo!Auction which had the complete series for sale. Being a completist with poor impulse control, I clicked the "buy it now" button. And thus I paid a ridiculous amount for what turned out to be bootleg dvds. At least, they were good quality ones.

---

The Marshal is a surprisingly good show. I don't remember ever seeing it when it originally aired but it seems to have suffered the fate of many well written shows; it was moved from time-slot to time-slot and never given a chance to develop an audience. As an early CKR appearance, this is a keeper. To quote
c_regalis, "He's So CUTE! And SO HOT! Floppy hair! Young! Cute! Evil! But vulnerable! And... and... and... CUTE! And he has, like, an actual role. Smoking! Leather jacket. Head thingie! Hand porn!" Also check me on this but Callum's doing a Brando-type thing, especially the second scene with Stanley. Right? I'm not seeing things. Tell me I'm not seeing things.