---
Based upon the novel of the same name,
For Those Who Hunt the Wounded Down
was a made-for-TV movie that aired on the CBC in 1994. The film chronicles one man's desperate bid for redemption as he struggles against a brutally violent history and uncertain future.
Dangerous, charismatic ex-con Jerry Bines (played by CKR) attempts to overcome his past misdeeds and provide hope for his leukaemia-stricken son in the form of a bone marrow transplant. However, time runs out when escaped murderer Gary Percy Rils returns and tries to extract a toll for Jerry's old sins. The film traces a single Christmas in Jerry's life as he prepares to deal with Rils and tries to protect his young son and his estranged wife. He is also interviewed by the ambitious, cold-hearted Vera, a psychologist who is writing a book on patterns of inherited male violence.
The film is an exploration of violence, redemption and forgiveness, and it looks at how a man like Jerry - complex and violent, yet gentle and loving - can be so deeply, tragically misunderstood by his community.
---
The
IMDB page
:
For Those Who Hunt the Wounded Down, 1996
Written by David Adams Richards, based upon his novel of the same name. Directed by Norma Bailey.
Year: 1996
Runtime: 1hr 25min
Country: Canada
IMDB rating: 6.8/10 (44 votes)
Genre: Thriller, Drama
Keywords: Based on book
Cast / Characters:

Callum Keith Rennie
Brooke Johnson
Niklas Konowal
Brent Stait
Michael Hogan
Nancy Beatty
Paul Jarrett
Kelli Fox
Maggie Huculak
Jonathon Whittaker


Jerry Bines
Loretta
Willie
Gary Percy Rils
Alvin
Franny
Ralphie
Adele
Vera
Nevin
---
Awards:
6 nominations, 3 wins.
Blizard Awards
Best Art Direction
(won) - Andrew Deskin (production designer), Deanne Rohde (art director), Mark Andrew Webb (set decorator)
Gemini Awards
Best Writing in a Dramatic Program or Mini-Series
(won) - David Adams Richards
Best Performance by an Actor in a Leading Role in a Dramatic Program or Mini-Series
(nominated) - Callum Keith Rennie
Best Performance by an Actor in a Featured Supporting Role in a Dramatic Program or Mini-Series
(nominated) - Brent Stait
Best Performance by an Actress in a Featured Supporting Role in a Dramatic Program or Mini-Series
(nominated) - Brooke Johnson
Writer's Guild of Canada
WGA Award
(won) - David Adams Richards
---
IMDB User Comments
4 user comments.
One example:
There are a lot of themes in my own life that are reflected in this film: abuse, violence, rejection, illness, sacrifice, fear, and death. But at the core, it's a self-fulfilling prophecy about accepting what you believe to be your destiny. From the moment the opening credits begin, both the audience and Jerry know what the ending will bring. And we travel alongside him to that end.

The movie isn't perfect, and you may disagree with the decisions that are made within it, but there's just something about it, weighing heavy on your heart, and yet ultimately, leaving you with a feeling of peace.
You can find all the comments
here
.
---
Callum Quotient:
90%. As the movie's leading man, Callum has plenty of screen time. He also narrates much of the film.
---
Pictures:
1.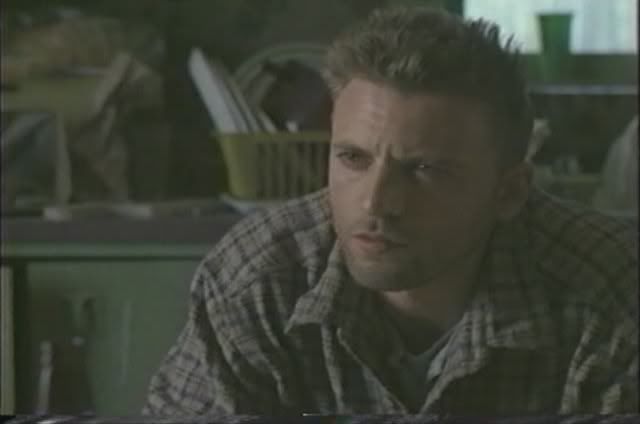 2.
3.
4.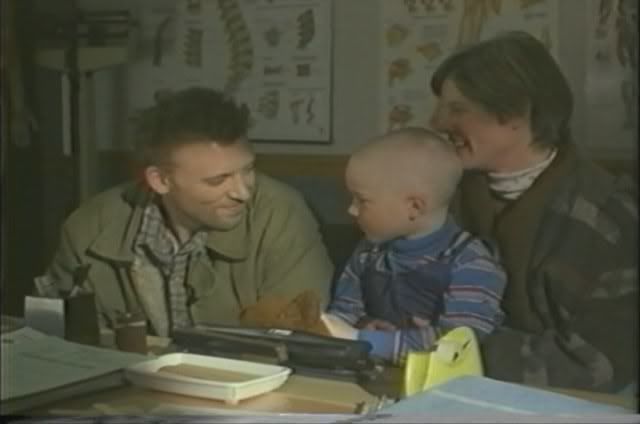 5.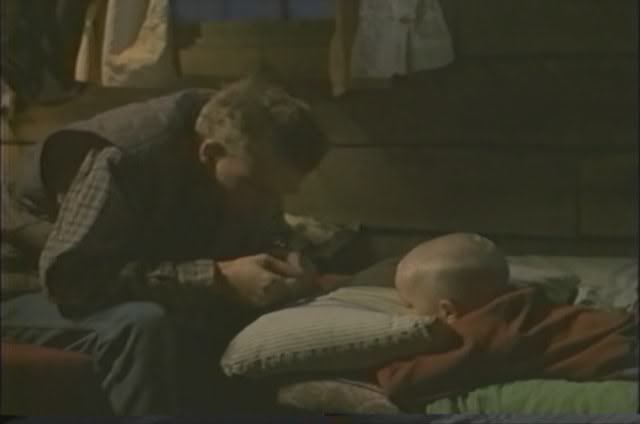 6.
---
Quotes:
"There once was an old deer. It had lost its strength, this old buck, and kept only one doe who had a small fawn. But winter was coming on, and the hunter kept coming." - Jerry


Jerry: "[Willie]'s been asking me stuff, about the planets and stuff, how many there are. I was gonna ask you about that. I don't know much about those kind of things."
Ralphie: "No, of course you do."
Jerry: "No, I don't. When you were in school, I was in Kingsclear [Penitentiary]. I was kicked around, fucked around, thrown in the hole. I didn't learn much."




---



Trivia:



The original novel For Those Who Hunt the Wounded Down (published in 1993) is the third in author David Adams Richards' interconnected Miramichi trilogy. It follows Nights Below Station Street (1988) and Evening Snow Will Bring Such Peace (1990). Jerry Bines, the protagonist of For Those Who Hunt the Wounded Down, also appears in the earlier novels.


The FTWHtWD novel was set in a small, improverished community along the Miramichi River in northern New Brunswick. The movie was filmed in Selkirk and Winnipeg, Manitoba, for about $3million (Cnd), and most of the principle cast were from Western and Central Canada, rather than the Maritimes where the novels are set. As a result, there is some confusion about the location of the film. Most assume it takes place in northern Ontario. Ironically, the screenwriter and author of the novel is critical of the tendency in Canadian culture to focus on Ontario-set stories, television shows and feature films, while eclipsing the western, northern and eastern areas of the country.






---


Interesting scenes:




Jerry's interviews with Vera about his past and his father. In these sequences Vera clearly has an agenda: she wants Jerry to admit that he was abused by his dad, and that he, in turn, abuses his son. Jerry's recollections of the past are confused and fragmented but he is adamant that his father loved him, and that he loves his son Willie.


Jerry decides to befriends Ralphie Peters, husband to his cousin Adele. Jerry admires Ralphie because "he's been to the university" and it's suggested in the film that Jerry cannot read.


Jerry plays pool in a local bar. There is a lot of leaning and intent staring.


Jerry sets his hunting camp on fire, but returns for a picture of Willie and Loretta.


After destroying his winter hunting cabin so Gary Percy Rils can't use it as a hiding place, Jerry is badly injured but checks himself out of the hospital, and then goes to buy a Christmas present for his son Willie. He asks the clerk's advice on a suitable children's book for Willie, and then nearly collapses in pain.


Sensing that Rils is getting closer, Jerry pleads with his son's doctor to perform the bone-marrow transplant early. When his request is refused and the operation is delayed until after Christmas, he explodes in the hospital waiting room and we finally see the violence that lurks just below the surface.


Jerry tells his son the story of the deer and the hunter.



---



Do I want to show this to my parents / friends / co-workers?





---



Jerry Bines





---



Does he die?
You really want to know? Are you sure? Really sure? Well, then. (highlight to read)

::

Dead. Definitely dead. Knife in the back and everything. Blood even comes out of his mouth!

::



---



Articles/Interviews

Bringing Novel to TV Didn't Work, Says Actor
The Spectator (Hamilton, Ont.)
Dec 14, 1996

Vividly drawn heroes and rich backwoods imagery from the wilds of the Miramichi drive the novels of award-winning New Brunswick author David Adams Richards. But can that be successfully translated into a TV movie of the week?

Not according to Callum Keith Rennie, the hot Canadian actor who stars in For Those Who Hunt The Wounded Down. The film version of Richards' popular 1993 book airs tomorrow at 8 p.m. on CBC.

"It's hard for me to talk about this one because it didn't work out the way I wanted it to," confesses Rennie.

He says much of the humour and character development from a book he loved failed to make the transition to the screen.

Sounding like the bad-boy character he creates in this film and in Hard Core Logo, Bruce McDonald's recent punk-road movie, Rennie says the problem with Canadian TV is that actors are not given any respect -- and so he has no respect for Canadian TV.

"You're brought in and you stand on the X like a Canadian actor, and you say: 'Excuse me, I'm having trouble with this script because it doesn't work.'

"And they go: 'Why are you being difficult?' And you go: 'OK, I'll make my money and you shoot your f.....g thing and it won't work!"'

For the CBC film, Rennie, 36, breathes broody life into the role of Jerry Bines, a charismatic but volatile outlaw.

Bines is trying to live down a past that includes a killing (in self-defence), theft and an alcoholic, abusive father. Gentle on the surface but with inherited violence simmering just below, he sees hope for redemption by providing life-giving bone marrow to his leukemia-stricken son. But time is running out because an escaped killer is coming to town to exact revenge for ancient sins. And like the old buck in a backwoods tale he spins for his kid, Bines soon must stop running and turn to face his hunter for an inevitably violent and tragic confrontation.

"They tried to tell a hero tale, which is a very hard thing in Canada because we don't know how to myth-make," says Rennie.

He thinks the final product is so bogged down in dark atmospherics that viewers won't care what happens to the characters. He also has a problem with the hastiness of a process in which an actor is hired three days before rehearsal and only a week before shooting begins, whatever the condition of the script.

But if Rennie had difficulty, director Norma Bailey was not aware of it.

"He brought a lot to this film that I never saw, which is the wonderful thing that wonderful actors can do for you," she says.

Bailey concedes some compromises were necessary. For example, a story originally set in Richards' Miramichi was shot in Manitoba (and appears to take place in Northern Ontario) to get around the problem of training actors to speak a regional dialect. But Bailey feels that wasn't a major problem, and even Richards didn't insist on authenticity of locale.

She also claims to be in synch with the author's view of his characters and their world.

"David believes that people who do very small things in life are the real heroes, and I think that runs through all his work."

But even Bailey agrees that not everyone in the TV viewing audience will embrace characters that often resemble the evil twins of those blue-collar hosers, the Mackenzie brothers. And she denies a setting of muddy snow, ramshackle towns and rust-pitted pickup trucks is relentlessly wretched.

"I guess once you get involved with these people and begin to love them too, you don't see them as desperate and bleak."

From here.



---


Those Who Hunt Wounded Down Proves Riveting TV
by Robert Reid, The Record (Kitchener, Ont)
Dec 14, 1996

Award-winning writer David Adams Richards is no stranger to television.

His poignant Christmas drama Small Gifts, which co-starred Kitchener actor Jeremy Ratchford, earned the New Brunswick writer a 1996 Gemini Award and a 1995 Gold Medal in the New York Festivals Competition.

The latest work of Richards to hit the small screen is a two- hour CBC-TV movie (premiering Sunday, 8 p.m. on Channel 5, Cable 5) based on the Governor General's Award-winning novel For Those Who Hunt the Wounded Down.

Adapted by Richards, who has written four screenplays in addition to eight novels, a collection of short stories, two stage plays and two books of poetry, the movie is directed by Norma Bailey, an award- winning documentary and feature film director.

Starring Callum Keith Rennie, a young Canadian actor worth keeping an eye on, the film revolves around Jerry Bines, a petty thief and ex-con living on the margins. Raised on a forced diet of neglect and abuse at the hands of an alcoholic father, Bines, who himself is no stranger to violence, has nothing but deep love for his own young son, who is suffering from leukemia.

Events turn mean when convicted murderer Gary Percy Rils, a former accomplice of Bines, escapes from prison and returns to town bent on revenge.

Lean like the book

The movie masterfully recreates the lean tautness of the novel, with its blend of raw grit tempered by a compassionate lyricism Richards reserves for his down-and-outers. The sense of inevitability leading to violent confrontation is gut-wrenching.

Filmed in Manitoba, the movie loses nothing for not taking place in Richards' home turf in New Brunswick. However, those familiar with Richards' work might regret the change in locale.

The acting is uniformly excellent beginning with Rennie as the volatile, yet charismatic, Bines. Bines is dogged by a complex personality and Rennie conveys that sense of troubled complexity -- a high-octane mix of violence and tenderness -- with considerable skill. His portrait of a tormented, misunderstood soul is deeply affecting.

Similarly, Brent Stait is chilling as Rils, an unredeemably malevolent animal who preys on everyone he encounters.

Effective cast

The supporting cast is equally strong and effective, featuring Brooke Johnson as Bines' ex-wife Loretta, Kelli Fox as Bines' cousin Adele and Jonathan Whittaker as the failed academic-turned-lush Nevin White.

Veterans Michael Hogan as Alvin and Nancy Beatty as Franny add depth to the cast, which includes an auspicious debut by six-year- old Niklas Konowal as Bines' son Willie.

The only characterization I might quibble with is Maggie Huculak as Vera, a self-serving social worker who in her own way hunts Bines down with the same tenacity as Rils. Huculak could have given her character more of a calculating edge.

A tragic, yet ultimately inspiring drama of love, sacrifice and redemption, For Those Who Hunt the Wounded Down makes for riveting, rewarding television.

Found here.



---


A Great Canadian Story
by Greg Quill, Toronto Star
Dec 15, 1996

If ever there was proof that a national public broadcaster is a necessary component of our cultural mix and society, it's in the made-for CBC-TV movie For Those Who Hunt The Wounded Down (airing tonight at 8 on Channel 5).

This is a movie, a Christmas movie no private broadcaster would have dared make.

It's about an inarticulate loser, Jerry Bines (Callum Keith Rennie), raised on violence in a remote and sorely poor part of New Brunswick; a man incapable of self-expression, who finds himself at Christmas back home with a woman who loves him, and a young, angelic boy who's dying of leukemia and desperately needs a bone-marrow transplant to survive.

Don't get me wrong; there's no sentimentality here. David Adams Richards' acclaimed novel, and the screenplay he wrote himself, pull no punches.

This is a grim, bleak movie, set very deliberately at Christmas in a place where ancient passions and moral arguments are played out by characters who might otherwise be doodling with chess or Scrabble by the fireplace.

It's deliberately discomfiting, and director Norma Bailey keeps raising the tension, hauling in the horror inch by inch, until finally, as in any great parable about the mystery of a redeemable outlaw the past and the present close in.

Bines is a hood. He accepts violence as part of his life. But he yearns for something better.

What's bearing down on him, like a demon in the dark, is a man named Gary Rils, a former partner-in-crime who took part of Bines' rap, spent time in jail, then escaped.

He wants compensation: money, a way out, revenge.

Bines knows he's the ultimate prey, and he takes precautions.

Trouble is, Bines, having grown up in the bush, knows the hunted are pretty well lost. He also knows that in order to keep his son alive, he has to survive.

Can he?

Well, that's what drives For Those Who Hunt The Wounded Down to its bloody conclusion.

This is clearly a religious parable, as potent in its way as anything in any Catholic text. You sin, you suffer . . . all you can hope for is that your children will be redeemed by some remarkable act of faith.

Rennie is an outstanding actor. With little else than eye movements, suspicious smiles, slight grimaces, muttered dialogue, he gives Bines a personality we know intimately.

He's a new actor in a new screen drama made (by Credo Entertainment) by a crew of new, but clearly not inexperienced, filmmakers who convinced CBC-TV bosses of their vision, then realized it.

Great story, about and for Canadians. Great actors, no American stars, and a public network willing . . . or maybe pushed . . . to go to the wall.

Found here.



---


Interview with David Adams Richards, author of the original novel and the screenplay adaptation.

Q: Can the novel you just wrote For those Who Hunt The Wounded Down and the movie, which recently was made and shown on television, be easily compared or are they both very unlike?

A: Well, you see the problem is they are both different art forms. A novel art form deals with the narrator who is writing it and it has a narrative voice which directs the action in the novel. When you deal with a script and write a movie, you're dealing with characters that you have to move to their action. You can't use a narrator. You have to use the voice of a character and their dialogue. It is a different kind of art and, therefore, they are different things and can only be compared as far as storyline is concerned. Once you put them into a movie, then you have your actors who interpret the characters. Each actor brings her or his own character to it. You have the director that has her or his vision about what they want on the screen. You have the producer who gets the money together, and if they only have so much money then there are things you can't do. For the last movie we made, we had three million dollars to make it. Sounds like a lot of money but for a movie, it is not a lot of money. If we had had ten million dollars we probably could have been able to make a more sophisticated movie. So you have to deal with what you have in a movie. They are comparable in the sense that they are the same characters and you are trying to do the same things but they are different mediums. They are different kinds of art forms, so in that way they are very different.
Found here



---


King Ray the 2nd: an Interview with Callum Keith Rennie [excerpt]
Jen Johnson, The Compulsive Reader

What makes Callum so intriguing though is his contradictory public and private persona. In all of his roles, he is a ball of soft light, not overt, but fiery enough that you can't take your eyes off him. As Ray ("Due South"), or Craig ("Last Night"), or even his beaten-down Jerry ("For Those Who Hunt the Wounded Down") there is an all encompassing bravery that leads his audience to believe that he fears absolutely nothing. Yet, in person he seems almost shy. And, much to my surprise, this fiercely gentle actor gets starstruck. "I've only been starstruck twice," said Callum. "Once on a plane, I asked Bobby Hull for his autograph. And the other on one of Christopher Walken's film sets. The director brought me over to meet him, and I mumbled something, and it all ended very quickly."

Found here



---



Links

slidellra has written a FtWHtWD story called The Evening Snow Will Bring Such Peace, and malnpudl made a podfic recording of the story. Both are beautiful.

slidellra and omphale23 have written FTWHtWD snippets for ds_snippets, which you can find over here.

meresy made a series of screencaps from the TV movie and split them up into a couple separate posts in her LiveJournal. These caps can be found here, and there is also a .zip file of the images available.

ETA: More links!

Our fearless mod cregalis has put up some picspam here, here and here, and she made an audio clip of the story Jerry tells his son about the deer and the hunter. You can download the clip here.

C also found an article here that provides a bit more context for Callum's negative assessment of the film. (I'd provide the fulltext but my subscription for the Toronto Star expired).

karabou made some beautiful high-quality icons from the movie, which you can find over here.

slidellra also sent zabira a Valentines Day card with an extra-special Jerry Bines snippet. You can read her transcription of the snippet here. Additionally (slidellra writes all of the FTWHtWD fic, okay?) she composed a slightly more upbeat snippet for Jerry here.

I'm sure there is much more fanfic and meta about this amazing film out there, and if anyone has any links please feel free to post them in the comments. I'll make sure to add them to the post.



---



Availability

The movie is not commercially available, unfortunately.



---



Final Thoughts

I think this film offers one of Callum's best performances. He brings a remarkable tenderness and complexity to the role of Jerry, and he worked hard to evoke the same broken, doomed-but-determined sensibility that infused the character in the novel. Callum's comments about the book-to-screen translation in the article cited above ("They tried to tell a hero tale, which is a very hard thing in Canada because we don't know how to myth-make,") surprised me. As a fan of Richards' writing for a number of years, I thought the film did a terrific job of capturing impossibility of heroism in Jerry. There's a memorable line in the story Jerry tells his son about the deer and the hunter: "and the buck kept the doe and the fawn alive for another hour, another night." Heroism isn't possible when your only goal is to prolong the inevitable. Survival is the goal, and it's survival, not heroism, that is bred into the Canadian soul.

Callum is on the money when he says Canadians "don't know how to myth-make." After all, we're not a nation raised on campfire stories about our own heroics. We hear about brave Americans and Englishmen instead, and we gain our identity from the margins, from what we are not. Jerry does the same: his identity is determined by what his community believes to be true, what opportunists like Vera and thugs like Rils incorrectly identify in him. Even his cousin Adele, who "used to put her arm about him," believes he's "no good." That assessment seems to wound Jerry deeply, and it often feel like every action he takes in the film is deliberately performed to protect his small family and to find an appropriate end to his own struggle. He makes no effort to explain himself or alter the way others perceive him, which is perhaps the biggest tragedy.

The film, like the novel, is about the search for quiet, personal redemption. It is bleak, but Callum's performance is authentic and heart-breaking, and the shocking violence of the last few minutes seems to set poor Jerry free. In a small, sad way, Jerry locates his happy ending. I did regret that Richards wasn't able to retain the final image that concluded the novel (it beautifully crystallized the themes of martyrdom, sacrifice and final, blissful peace) but the violence of the film's conclusion is the only ending that would have been even remotely appropriate. For Those Who Hunt the Wounded Down is a film stripped of sentimentality but deeply infused with compassion, and I found that it's this performance, along with his role as Billy Talent, that constitute the most haunting and unforgettable in Callum's screen career.

You can download this film for personal viewing at the usual place, and if it touches you as deeply as it has me, I'd recommend seeking out the original novel as well. Both are wonderful.

On a final note, many thanks to the lovely and talented meresy for shameless use of her picspam, and to zabira for helping me track down the articles and references used in this post. You two rock the casbah.