---
In Lonesome Dove: Longshot, Clayton is a moonshiner whose product is poison and it has been killing people. Newt Call and Col. Mosby are trying to put a stop to it. Harry takes a job with Clayton driving the wagon without realizing just how bad Clayton is. And Harry is definitely not cut out for the bad-guy life.
---
The
IMDB page
:
Lonesome Dove: The Series - Longshot (1994)
.
Lonesome Dove: The Series is a spinoff from
the Lonesome Dove miniseries
which was based on Larry McMurtry's bestselling novel
Lonesome Dove
. LD:tS morphed into Lonesome Dove: The Outlaw Years for its second season.
Most notably, the cast includes
Eric McCormack
of
Will & Grace
fame and
Scott Bairstow
who went on to appear in
Harsh Realm
and
Party of Five
. Due South alum,
Gordon Tootoosis
appears in 3 eps. Other familiar faces spotted in various eps include Ian Tracey, Kenneth Welsh, Venus Terzo, Bernie Coulson and Adam Beach.
---
Cast / Characters:

Scott Bairstow
Christianne Hirt
Eric McCormack
Diahann Carroll
Helene Udy
Paul Johansson
Callum Keith Rennie


Newt Call
Hannah Peale Call
Col. Francis Clay Mosby
Ida Grayson
Della
Austin Peale
Harry Price

---
Year: 1994
Runtime: 42 minutes
Country: USA/Canada
IMDB rating: 6.8 (63 votes) Longshot does not have enough votes for a rating
Genre: Western
Keywords: 1870's, Pulitzer Prize Source, Sheriff, Based on Novel
---
Awards:
Gemini Awards 1996
Won: Best Photography in a Dramatic Program or Series
Nominated: Best Original Music Score for a Dramatic Series
---
There are 4 user comments.
One example:
Outstanding - contains spoilers, 12 March 2008
*** This comment may contain spoilers ***
Contains spoilers…………… The original Lonesome Dove was without doubt the finest western ever made whether for cinema or television, and thus having embraced the characters from the original all LD sequels became of interest to me. Even Return to Lonesome Dove, which was not sanctioned by Larry McMurtry was a spellbinding mini-series/movie if not as good as its predecessor. The Streets of Laredo was again a welcome addition to the story, as was Dead Man's Walk – though the denouement of that one I found unsatisfactory.

Having watched the three above, and read the books I awaited Lonesome Dove – The Series with eager anticipation and have not been at all disappointed. Although at times – possibly accentuated by the start/end 1920s narration by the elder Newt – it smacked of Little House on the Prairie, it avoided going too far in that direction by hardening up the character of Newt and the story lines as the series progressed. Scott Bairstow developed Newt in line with what was thrown at him, at Hannah and the town of Curtis Wells; and having not yet watched The Outlaw Years I don't know where Newt goes next. Christianne Hirt was simply wonderful as Hannah and although I knew roughly what would happen in the final episode, the impact and shock value of the explosion were undiminished – that and the abrupt narration free ending closed the series leaving me stunned. It was probably necessary dramatically to finish in that way but I will truly miss Hannah, and the beautiful Miss Hirt..

Given the quality of production, story lines and the actors who graced Lonesome Dove the Series it should be difficult to pick out a clear 'star' of these films but for me the one who stood out even above all the other excellent cast members was Eric McCormack. His portrayal of Colonel Francis Clay Mosby was outstanding. As soon as Mosby comes on the screen your eyes are drawn to him; his controlled anger, the longing for Hannah, the power and strength of what is basically a criminal character and in the third from last episode his losses in the war are revealed helping the viewer to a greater understanding. An incredible anti-hero without whose character this wonderful series would have been diminished.

With the excellent performances, fabulous scenery and production values, and Terry Frewer's music which builds upon the original beautiful Poledouris score, Lonesome Dove – The Series is truly outstanding.
You can find all the comments
here
.
---
Callum Quotient:
20%
---
Pictures: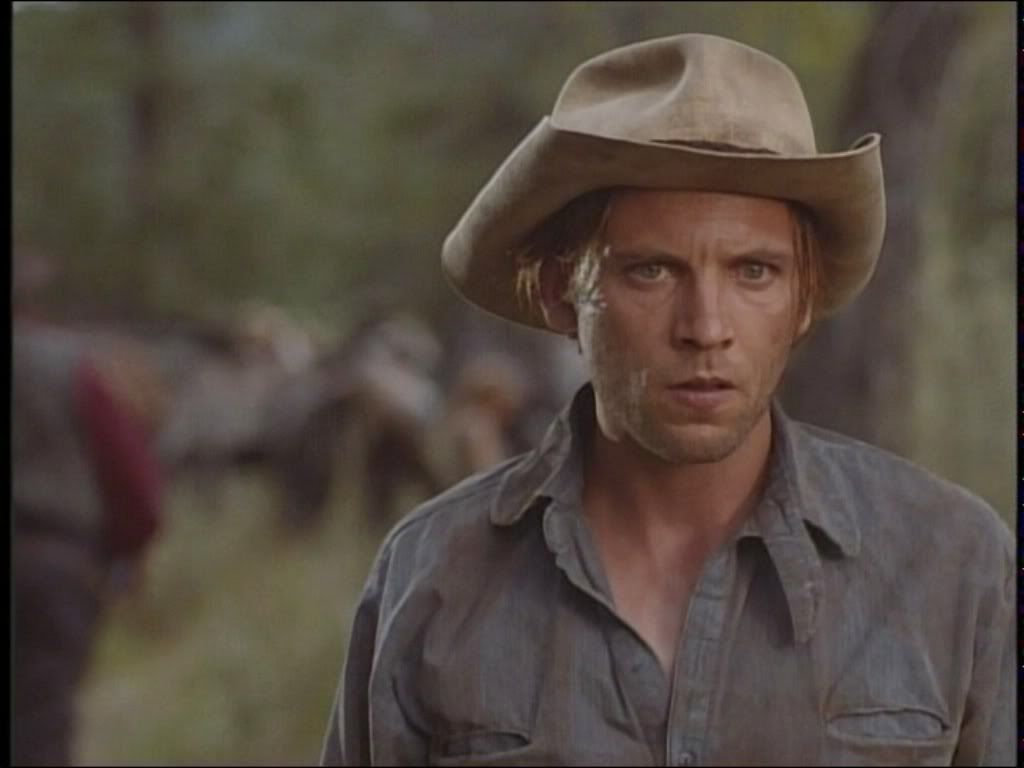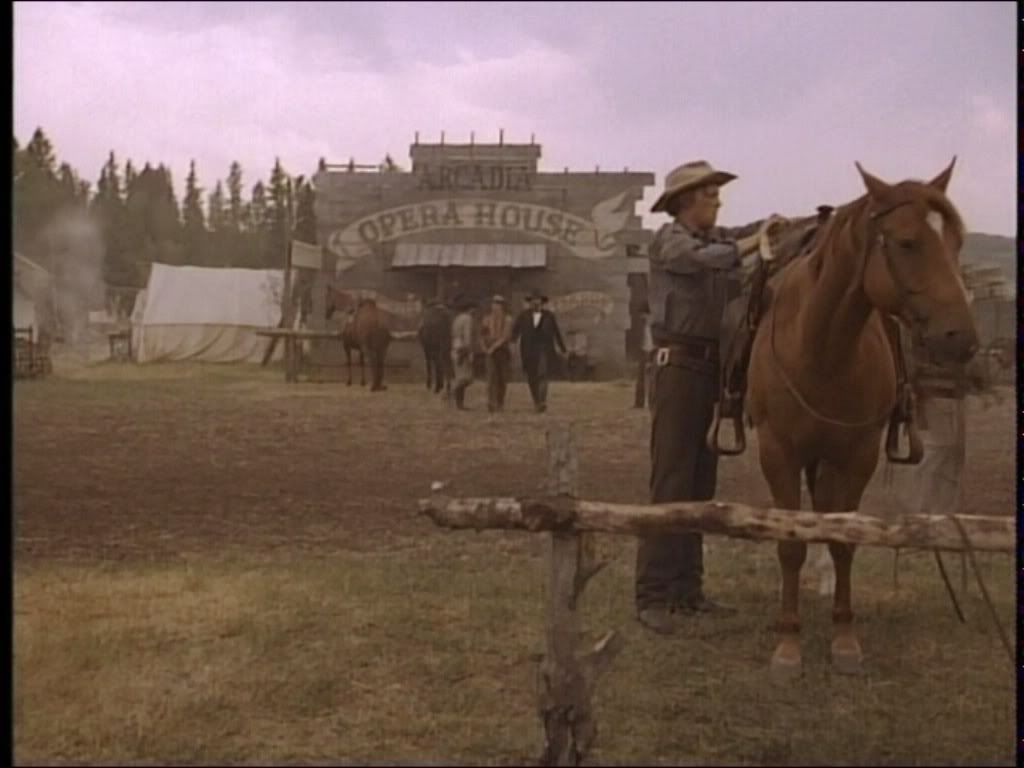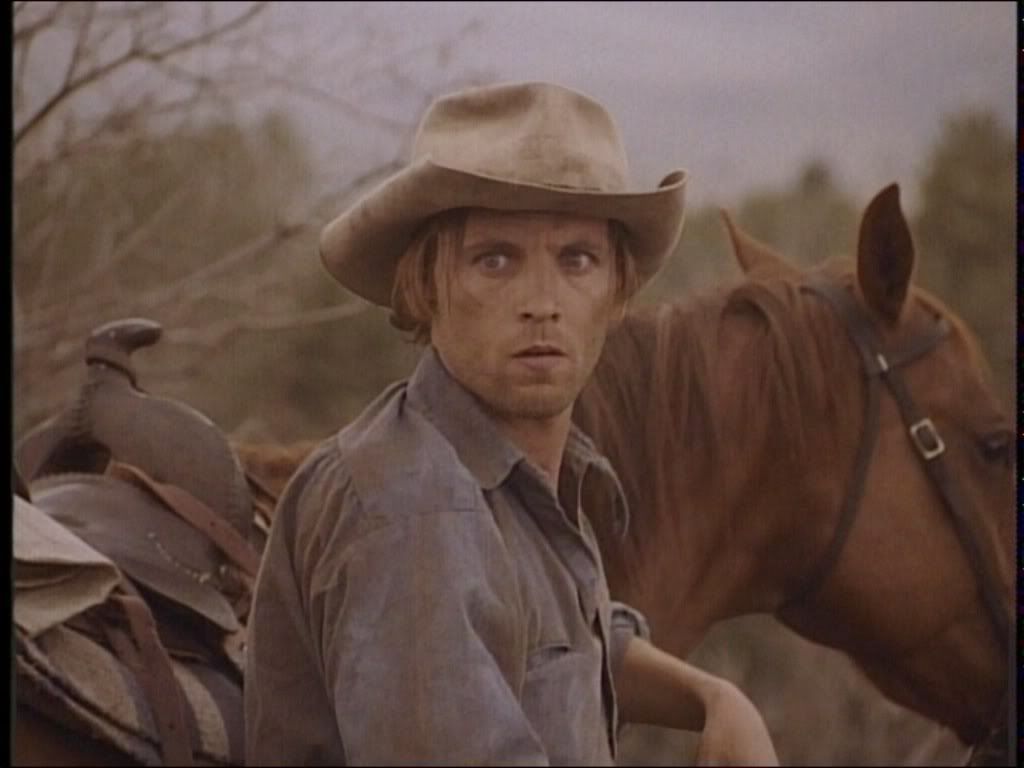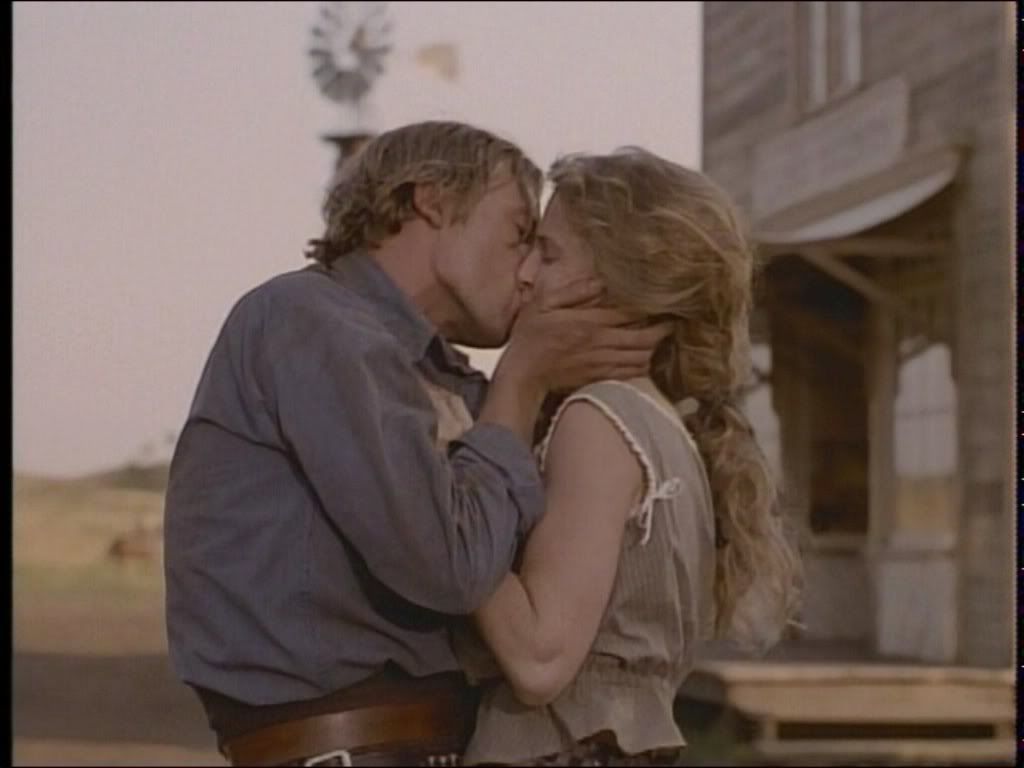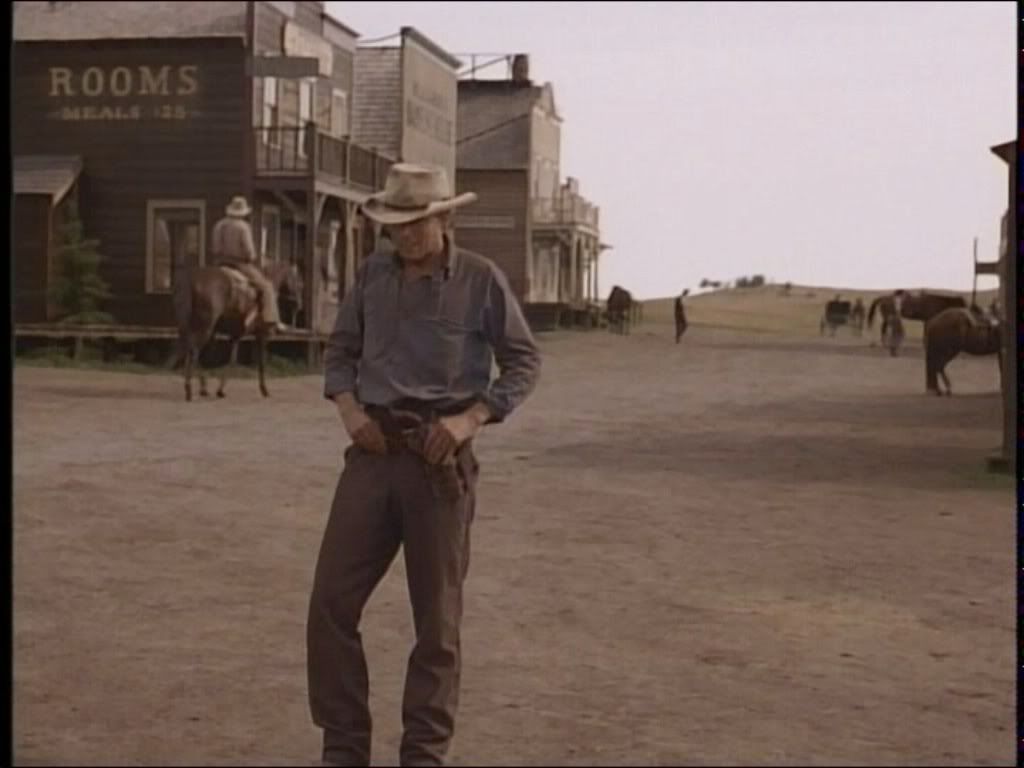 ---
Quotes:
Harry: I never done this kind of work before.


Dell: Harry, I don't like this if it's a game.... You're not gonna....
Harry: No! Listen, listen, Dell, you were right. These are really bad men. Go to the nearest town and I'll meet up with you as soon as I can get there.


Clayton: Don't turn around. You're looking pretty good. For a corpse.
Della: What have you done to my Harry?
Clayton: Nothing. Yet.


Harry: Listen fellas, you don't understand. These are really nasty customers. I'm not much of a fighter. They'll kill me.
Mosby: Not if we do it first.


Della: He never was much good with a gun. Or a horse.


---
Trivia:
You may have noticed that in lieu of more trivia I added more pictures. *g*
---
Interesting scenes:


Clayton orders Harry to "take care of" Della.


Harry gets captured by Call and Mosby.


Harry and Della's reunion.


Call, Mosby, Peale, and Harry go after Clayton and the moonshiners.


---
Do I want to show this to my parents / friends / co-workers?
---
Harry Price
---
Does he die?
You really want to know? Are you sure?
Really
sure? Well, then. (highlight to read)
::
He lives! And he gets the girl!
::
---
Articles/interviews
Lonesome Dove: The Series
© Jael Mehr
May 19, 1999

"Lonesome Dove: The Series" has been one of the few Canadian shows that was fairly obscure while it aired in Canada, but began to grow to new heights of popularity when it began airing in syndication in the US in conjunction with it's less well-received Canadian spin-off, "Lonesome Dove: The Outlaw Years"

"Lonesome Dove: The Series" was Canada's answer to "Dr. Quinn: Medicine Woman". The series was a spin-off of the incredibly successful mini-series "Lonesome Dove", which was based on a novel by author Larry McMurtry. The series was a light-hearted, hour-long show which aired once a week sporadically for nearly two years, yet only managed to produce roughly one viable season.

LD:TS followed the life of one Newt Dobbs Call. Although played in the mini-series by actor Rick Schroder, it was Canadian Scott Bairstow who made the role his own. It's ironic that LD:TS launched Bairstow into stardom, because he wasn't their first choice. The role was written for Canadian actor Jaimz Woolvett (look-alike brother of Gordon Michael Woolvett, also an actor, and probably the more well-known of the duo), but after another studio tied him up in red tape, Woolvett was unable to take the part. (In 1996, Woolvett won a $3.2 million lawsuit against Neverland Studios for interfering in him not being able to take the LD role.) Whereas much of the mini-series had focused on the relationship between Newt and his father, Woodrow Call, the series focussed solely on Newt, with occasional mentions of his father and a guest shot or two. The main focus of the series was Newt's misadventures as he struggled to maintain his homestead, and his relationship with Hannah Peale, the pretty young daughter of the local newspaperman.

When Newt married Hannah at the beginning of the series, he took on more than just her. He also took on her father, Josiah Peale, who ran the newspaper, her brother, Austin Peale, who was naive and pretty unworldly, and local saloon owner Francis Clay Mosby, who had an obsession with Hannah because she looked like his dead wife. Bairstow wasn't the only one flung into stardom by his brief time spent in the town of Curtis Wells. The series also took two fairly unknowns and pushed them into well-received serieses of their own. Paul Johansson, who played Austin, went on to do "Beverly Hills, 90210", a couple Ed McBain made-for-TV mystery movies, and most recently, "Highlander: The Raven". Eric McCormack, who played the bearded, twang-voiced Clay Mosby, has gone on to become a major player in the American market with his role of Will Truman, Grace's gay roommate, in the hit NBC series "Will & Grace". Other notable alumni included in the series were Christianne Hirt (Hannah), Dihann Carroll (Ida), and Paul Le Mat (Josiah).

The series didn't last long, due in part to low ratings and bad timing. "Dr Quinn: Medicine Woman" aired at 8:00 pm on Saturday. Part-way through the second season, LD:TY was moved to 10:00 pm on Saturday. Most people don't want to go from the Old West to the sci-fi (9:00 pm Saturday managed to flip between "TekWar", "Counterstrike", and whatever other low-rated Canadian show was on the air that year), back to the Old West again. The series, while it had a few action episodes, was fairly non-violent (something that they attempted to change in the spin-off), and when it started going up against the more violent American shows (part of the reason it was moved from Thursday to Saturday), it just couldn't last. In may ways, the lifespan of LD was similar to the lifespan of another Canadian series to spawn a spin-off after cancellation, "Due South". Successful first run up to a point, cancellation, last-ditch effort at resurrection, then another cancellation. It also suffers from the same controversial argument -- presented in the US as one series, it was originally presented and created in Canada as two separate serieses.
From
here
.
---
Lonesome Dove: The Series
By TODD EVERETTRead other reviews about this film

Powered By Syndicated Filmed in Alberta, Canada, by Telegenic Programs Inc. and RHI Entertainment in association with Rysher TPE. Executive producers, Suzanne de Passe, Robert Halmi Jr.; co-executive producer, Michael J. Taylor; producer, Jana Veverka; supervising producer, John Ryan; director, Sidney J. Furie; script, Stephen Zito , Tom Towler, based on characters created by Larry McMurtry.

Cast: Scott Bairstow, Eric McCormack, Christianne Hirt, Diahann Carroll, Robert Culp, Graham Greene, Paul Le Mat, Dennis Weaver, Billy Dee Williams, Paul Johansson, David Cubitt, David McNally, Jay Brazeau, David La Reaney, Eli Gabay, Bill Croft, Mark Acheson, Stephen Miller, John Gilbert, Joel Wirkkunen, Gordon Tootoosis, Ric Reid, Lorne Cardinal, Greg Rogers, Ken Yuen, Gary Chalk, Ryf Van Rij.

Third incarnation of venerable cowboy franchise is syndicated series filmed in glorious Alberta, Canada, countryside. Cast of attractive, all-but-unknown Canadian principals is joined by numerous big names in cameo roles.

Newt Call, scion of the Call family introduced in "Return to Lonesome Dove" miniseries, is only one of the "original" characters to appear here, with Scott Bairstow filling boots of original's Rick Schroder. When he hits Montana territory town of Curtis Wells, he meets Hannah Peale (Christianne Hirt), toothsome daughter of local newspaper publisher Josiah Peale (Paul Le Mat) and decides to hang on, rather than, um, returning to Lonesome Dove, which is in Texas. Before long, Newt finds himself in a fistfight, rescued by tall, dark stranger Col. Francis Clay Mosby (Eric McCormack).

Newt is blondish and wears light clothing; Mosby is black-haired and dresses like Johnny Cash: even before Mosby's identity is revealed in second hour of three-part opener, it's clear that lines will be drawn. Equally clear is that the two will be fighting over Hannah.

Main subplots, all initiated in first episode, deal with Ida Grayson (Diahann Carroll), in town waiting return of her husband, Indian scout Aaron Grayson (Billy Dee Williams) and greeted with prejudice by locals; arrival of Buffalo Bill Cody (Dennis Weaver), hired by a railroad promoter (Robert Culp) to help impress potential investor from Germany (John Gilbert); a band of outlaws who attack Ida and are thwarted by Cody and Call; and raids by renegade Native American Spotted Elk (Lorne Cardinal).

Presence of marauding aboriginals is refreshing throwback to non-politically correct times, though Spotted Elk is countered by friendly, educated Red Hawk (Graham Greene).

Script by Stephen Zito and Tom Towler keeps storylines remarkably clear and allows characters to introduce themselves in unforced, natural manner. Director Sidney J. Furie has a strong hand with this material and paces episodes to keep characters interesting as the plot rolls on. Name "Lonesome Dove" becomes attached to town of Curtis Wells in third hour.
Found
here
.
---
Lonesome Dove: The Series - Not Enough of What Lonesome Dove Fans Are Looking For
Written: Feb 16 '07 (Updated Jul 24 '07)

Product Rating:
Pros: decent characters, some good stories, Eric McCormack

Cons: character of Hannah, sanitized version of frontier life

The Bottom Line: This series tries to build on the Lonesome Dove name but fans of that series will be disappointed as much of what we liked there is lost here.
-------------------------------------------------------------------------------

AliventiAsylum's Full Review: Lonesome Dove: The Series

Plot Details: This opinion reveals major details about the movie's plot.

This series, based on the characters in the original Lonesome Dove book and mini-series, tells the story of Newt Call as he's looking back on his life through a book he's written. The story picks up in the town of Curtis Wells where Newt (portrayed by Scott Bairstow) first meets Hannah (portrayed by Christianne Hirt). The two have a whirlwind courtship and are married. The series is mostly about their life together during what seems like the first year of their marriage.

Haven't read the book or seen the mini-series? Well, you should. Besides that, though, you don't have to if you are going to view this first season of the Lonesome Dove television series. Other than the name Newt Call, there's not much else that draws on the rich history laid out prior to this point in time. For him, he doesn't draw on a lot of his experiences, either. He talks a little about his father and about the cattle drive to Montana, but it's not much. Near the end of the season, there is finally one episode involving Woodrow Call (portrayed by Lee Majors) and even that didn't rely heavily on the history to know what was going on.

The television series Lonesome Dove is a typical western series, and in a way that's a shame. One of the things that was great about the book and the mini-series was that it showed the west as gritty, turbulent, violent, and dangerous rather than romanticizing it. Although the series does touch on that, it had more the feel of other frontier and western shows which have preceded it.

There are issues addressed in the series. The racism which pervaded society at the time is addressed head on as a black woman traveling through town is denied water to wash up with and a room at an otherwise empty hotel. In the end, she purchases the hotel and ends up settling there, and the issue never seems to resurface. Other themes are explored as well, including the issue of guns and violence, of frontier justice, and the like. Lonesome Dove is not as sermonizing as Little House on the Prairie was in its depiction of frontier life, but overall it's tone is much lighter and romantic than I found the mini-series and book to be.

The acting through the season is good. Scott Bairstow portrays Newt. Newt is finding his way in the world and Bairstow portrays him with the right mix of confidence and self-assuredness against his moments of uncertainty. He's got ideas and ideals but isn't sure exactly where they fit in his life. One of the best moments for him, I felt, was near the end of the season when he confronts a friend who he felt was spending too much time with his wife when Newt was thought dead. Through the season he grows from his arrival in town to trail boss to deputy.

One of the biggest problems I had was that I just couldn't grow to like Hannah, Newt's wife (portrayed by Christianne Hirt). I can't say for sure if it was the actress or how the role was written. I found her to be arrogant, demanding, and pretentious. An example of this is in Traveller she and Newt invade a photographer's space and totally disrupt her picture, yet it is Hannah who gets a superior attitude that the photographer was somehow doing something wrong and that she is deserving of an apology. There were moments like this where Hannah was so superior over everyone else and I just grew to not care for her by the second disc. This is a problem when the focus seemed to be on the relationship between her and Newt – I just couldn't find myself rooting for them.

Eric McCormack in his pre-Will and Grace days really startled me. He portrays the former Colonel in the Confederate Army, Francis Mosby. He's somewhat bitter and looking for power, money and prestige. His soft spot is for Hannah, who greatly resembles his dead wife. Too bad this is really never built on. In the beginning of the season it was built up, then dropped again until near the end. McCormack does an excellent job in the role, and is probably the high point of the series any time he is in front of the camera.

There were other points brought up and dropped as well, which kept disappointing me. I was waiting through the end of the season for certain payoffs which never happened. I think it was because in many ways the series couldn't find it's footing as to what it wanted to be.

It isn't until the fifth disc, almost near the end of the season, that any characters from the novels or earlier series turn up. Here it is Newt's father, Woodrow (as portrayed by Lee Majors). Majors does an excellent job in the role of the gruff man of few words. This episode was the highlight of the season and I wasn't sure how I would feel about yet another actor in the role of Woodrow. I was very happy in the end.

Guest stars over the course of the season include Diahann Carroll, Dennis Weaver, Graham Greene, Judge Reinhold, Robert Culp, Billy Dee Williams, George Kennedy, Annette O'Toole, and the previously-mentioned Lee Majors. I really like the music which accompanied the opening and was present at times during the episodes. It had an old-time sound with violins serenading the narration or events.

It's important to note that the series Lonesome Dove – The Outlaw Years is the sequel to this season. I didn't realize that at first and wondered how they could leave off the end of the season the way they did with nothing coming after it.

The end of the season was somewhat disappointing, but also left me curious. I think it also conflicted with some of what Newt narrated earlier in the series, but I wasn't about to start watching the series again to check this out. It seems the producers wanted to take the show in a different direction and thought this was the best way to do it. I wonder if viewers at the time had some of the same complaints I did?

The series Lonesome Dove isn't horrible, but it's not something I have the need to town and watch over and over again. It seems like it was trying to build on that name and unfortunately dropped the ball and fell into the trap that many series do when they try to please everyone and end up not totally satisfying anyone. It tried to capture the young audience with the story of young love but left those who were fans of the mini-series and book less satisfied with a different take on western frontier life.
Found
here
.
---
Links
I did find a couple of fanpages for Lonesome Dove.
Debra E's Lonesome Dove Page
and
Darcie's Lonesome Dove Page
.
I have some picspam
here
.
c_regalis
has a Lonesome Dove post
here
.
To the best of my knowledge, Harry has never made it into any fanfic.
---
Availability
Lonesome is available through online retailers such as
amazon.com
. And if you interested in both LD: The Series and LD: The Outlaw Years, amazon has
Lonesome Dove: The Ultimate Collection
as well.
While Lonesome Dove: The Series doesn't quite hit the high standard of the original mini-series, it's still entertaining television. Longshot is worth watching as one of Callum's first guest starring appearances on a TV show. Be on the lookout for those Callum-isms we've come to know. Especially the whistling.